Monday, October 5th, 2009
---
11:32 pm
- 全ての人の魂の詩




Just finished a piano transcription/arrangement of one of my favorite themes. Hope you all like it.
Monday, April 28th, 2008
---
11:45 pm
My Grandfather died last night and I didn't even know about it. I've been so wrapped up in my on personal mess that I haven't been keeping up with my family. My uncle was the one who notified me. I regret more than anything that he died thinking I didn't care about him. I loved my grandfather more than any other person in my family. He is the one who told me how important it was to be honest and responsible. Somewhere along the line I forgot about that, and it is tragic that it took his death to remind me of that lesson. If any of my family reads this, I'm sorry I haven't been keeping up. It wasn't out of anger that I haven't kept up, but out of self-centeredness and a general lack of responsibility. I don't even know how to contact anyone anymore, which is shameful. Please know that I love each and every one of you, and that I did not intend for this to happen.

Best Regards,
Jon

current mood: sad
Tuesday, March 4th, 2008
---
2:55 am
- Long time, no update
So I guess I'll post what has been going on.

Work
I got sort of a promotion by getting transferred to the "developer markets" department at work, which handles setting up service in big gated communities that have contracted with the company for fiber to the premises high speed internet and TV service. It is also the "new service" queue, which basically means while I don't get paid more per hour, I basically get more money for less work on the commission side of things. I also got a raise and a Short-Term-Incentive bonus because I met my goals for last year and the company did well. This will help out with the next subject. I'm also looking into coaching and training positions once I hit my 18 month mark (1 year anniversary at this job was 2/5) and can change jobs. I want to get settled and comfortable first before I look in to that though. The only issue with the job (if you can call it an issue) is that my hours went from 8-5 Monday through Friday (which I FINALLY started getting Saturdays off at my old office), to 1pm to 10pm Monday-Wednesday, off on Thursday, 1-10 Friday, and 9-6 Saturday, due to the fact that it is a specialist department and the number of employees is much lower. Seniority is starting to build back up though, so maybe I'll start getting better hours...

Housing
I will actually be moving to a nicer house in April. Our current landlord went apeshit and decided that she needed money more than she needed someone to pay the mortgage, so she put the house that I'm living in on the market. This came after a discussion about the possibility of Colby and I buying a bigger house, since under the down payment assistance that we are going for, we need to keep the same place for 10 years. What is crazy is the people we will be leasing to own from now were tenants of my current landlord, who used to own the house we are moving in to. It will be awesome though. Ann and Ryan, when you come over next time there will be a usable guest room and a pool, as well as cable TV AND satellite (there is standard 75 channel cable there that has been on for 10 years without being billed to anyone, and satellite is way cheaper, so I'll get Dish through my company and use the cable as a backup when storms get too bad to watch TV).

Life
Aside from the craziness, Colby and I are doing really well. She is currently looking for another job since the house we are moving into is going to be a bit more costly. We'll be able to make ends meet in our current situation, but having a job with more hours will make it much easier and allow us to save more (possibly looking into getting a new car, too, since Colby finally sold the dead Volvo).

I guess that about covers it for now. More updates as cool stuff happens.

current mood:
tired
Monday, May 21st, 2007
---
3:42 pm
- I imagine most people I know speak just like this...
Midland. The Midland (please don't confuse with "Midwest") itself is the neutral zone between the North and South. But just because you have a Midland accent doesn't mean you're from there. Since it is considered a neutral, default, "non-regional" accent you could easily be from someplace without its own accent, like Florida, or a big city in the South like Dallas, Houston, or Atlanta.
Take this quiz now - it's easy!
Sunday, April 8th, 2007
---
2:02 pm
Hey everyone, now that I'm back, I decided to update the forum and take
advantage of some of the new features of proboards. This has resulted
in a new and improved forum! Feel free to come by and check it out!
among the new changes are:

-new and improved skin
-ancient history forum for posts from years past
-cardboard crack forum, for tcg/ccg players
-live chat functionallity located in the navigation bar at the top of the forum
-updated fully integrated warning system
-added Karma rating for users (you can now rate other users' contributions to the forum)
-quick reply box
-calendar functionallity, post anything that's happening with you and what day!
-integrated google search bar...find anything on this forum or the web in general (located at the bottom of each page)

come vist and have some fun with the new features!
http://syncognition.proboards32.com/index.cgi

-Syncognition
Monday, March 19th, 2007
---
11:58 pm
- Yay for not Existing
so I applied for a credit card from capital one...one of those little ones for people with no credit, and amazingly I was denied, even though I was sent an offer letter from them just a month ago. apparently the credit bureaus have conflicting/incomplete/missing information. I was put through a choicepoint verification process where I was asked a few questions, which did not pertain to me at all ("Our records show that you applied for a mortgage loan in 1999, which bank was it with), so yeah, either my dad used my social security number, or their database is just royally screwed up due to the fact that my father's name is John Troy Strait, and mine is Jonathan Troy Strait (I guess the system found some internal matching and whatnot).

I have to wait 15 days for my Positive ID form to go through all of the credit bureaus, and then I'll get my credit report back from them and can call to fix the problem.

I'm never naming my kids after me...damn, I just wanted to be able to buy a washer and dryer, and maybe use the credit card to pay the electric bill after that, since that bill comes on the same paycheck as my mortgage payment, and it is really hard to have to use an entire paycheck just to pay for those two things with nothing left over. Now I have all of this headache to sort through.

In other news, life is awesome.

This past weekend I went to the Winter Park Art Festival with Colby, so that was fun. We also cleaned the house top to bottom, and it looks great now. Colby did an excellent job on the floors and the bathroom, we both did laundry at her mom's house throughout the day, and I cleaned and organized the rest of the house and took care of the kitchen. It was a lot of work, but really it was fun, everything got done, and it only took about 3 hours to get absolutely everything we needed to do in the house done. This weekend I plan to clean my car out (it is an unholy mess, as usual) and possibly mow the grass, since it is getting rather tall for my liking. We'll see how it goes.

I really enjoy work, even though I kinda suck at my job. It is still early on and I think once I get a feel for everything I have to do I'll be able to just sail on through it. The days just fly by lately.

Guess that just about covers everything.
-Jon
Thursday, March 15th, 2007
---
8:12 pm
- yuck
I'm sick as a dog...this is my first abscence since I started at embarq, and I hate it. I haven't missed a day or been late since I started 6 weeks ago...I hope I don't get in trouble, the second fastest way out the door at Embarq is attendance (first is ethics...you slam someone's account and you'll see a cardboard box on your desk the next day).

Aaaanyway. Other than that, everything else is going great. I'm the top rep in my class, averaging about $1,000 in revenue a day, only being on the phone for 3 hours (quota per day is about $2,300), and I absolutely love my co-workers.

Things are good at home. My cat was injured a few weeks ago (someone kicked him in the jaw...we weren't even aware anything was wrong until it abcessed), but he's looking so much better now after being on antibiotics.

Back to work tomorrow it looks like. Hope everyone is doing alright.

-Jon

current mood:
sick
Sunday, February 25th, 2007
---
8:36 pm
- now, let's begin to type some words
it's been almost two years, so I think I owe everyone an update.

things that happened from may 2005 through the rest of the year:

-got my first job at tilt
-worked there for two months
-met the love of my life (Colby)
-played a lot of free DDR
-quit job at tilt
-began working at panera
-officially started dating Colby
-worked at panera until December 2005

2006
-resumed classes after having saved enough money to continue with school
-slowly got away from playing DDR (lots of people I didn't want to associate with making it not worth it)
-began living with Colby full time in January
-started playing IIDX in march
-began application process for Seminole County Public Schools Extended Day in May
-volunteered for summer session of Extended Day
-Officially became a SCPS employee in July
-Worked Extended Day after school program until January of 2007

2007 thus far
-Applied for and attained a position at Embarq Communications as a salesman
-got the job
-moved into my first HOUSE with Colby at the end of January (leased to own)


so that's about everything that's been happening. I have a beautiful girlfriend, a beautiful house, and a fun and fruitful career. I had to quit school, but Embarq will pay for any schooling I may want to take in the future. All in all, I'm very happy. If anyone wants to talk, feel free to IM me at Syncognition

sorry I haven't been posting or keeping up with everyone, I really do hope I can catch up. I've just had to buckle down and be a man to get what I want, but it has been well worth it.

Hope I can talk to you all soon,
Jon
Wednesday, May 4th, 2005
---
2:25 am
- Time Compression (an editorial on cosmic anomalies in hospital waiting rooms)
So today I officially experienced time compression for the first time. It was surreal. Allow me to recount the events that led up to my witnessing of this amazing phenomenon.

This morning I went to school for my exams, got home at noon or so, and found that I was supposed to take my Step-father's Father to the hospital. I was ok with that...we were supposed to get there two hours early to check in, and then the surgery was supposed to be really fast (it was outpatient surgery, and the procedure supposedly was to take less than 5 minutes). Well little did I know that Miguel (my step-father)'s MOTHER would also be tagging along. Just so you know, she's a senile old Cuban lady who is completely decrepit (aka crusty). Did I mention that she's senile? Oh yeah, totally bat-shit crazy. I can't blame her...she's like a million years old, but whatever. I go next door (yes, these people live next door to me) and get them out the door. He's letting me drive his Toyota Matrix (which has less than 2000 miles on it!), which saves me gas and the task of cleaning out my heap. Off we go.

We arrive at the hospital, and the directions say to park on the 4th level of the garage. Ok, so I'm going up and I park in the only spot available on the 4th level. This happens to be on the opposite side of where the actual entrance to the hospital is. The old folks refuse to let me drop them off and park the car myself, so I have to walk with them ever so slowly. We had to stop and take a break for a few minutes, but eventually we got in the hospital. Turns out the only thing on this part of the 4th level is elevators. Looking at a directory, I saw that we actually had to go down to the 3rd level, walk over to the north "tower" (what, is it a fucking castle?) and go to the 4th floor over there. This was a 20 minute task easily, as the old folks refused to sit in wheel chairs.

Eventually we found ourselves in the North tower. A mighty citadel filled with crusty people getting random outpatient surgery. We check in, and I begin to help the old man with his forms. He of course refuses the help (keep in mind, he's blind in one eye...that's why he's here for the surgery...so his depth perception and writing skills were hurting), so he spends about 15 minutes filling out this one page form that probably would've taken me about a minute to do for him. I take it up to the counter, and they say "we'll call him up when we're ready for him. Should be about 15 minutes."

An hour later, they call him up, and tell me "his procedure will take about 3-5 minutes, and the prep time will be about 10 minutes, so you'll be able to see him again in at most 20 minutes."

Two hours later (oh the radio I brought with me was a godsend...that crazy lady put on telemundo the minute enough English-speaking folk left the room)....

Essentially, the waiting room was like driving from here to Ft. Myers, but I wasn't actually driving. I was listening to my MP3 player/radio, but I was just sitting, watching the Hispanic version of the Jerry Springer Show (except "Jerry" is a chick named "Laura" and the people on the show have more teeth on average) with the sound blocked out by some random FM radio host droning on about statutory rape laws...somehow, I think the host's subject related to the program on TV in some creepy way...

And here is where the time compressed world collides with my own. I had already caught a glimpse of it with the whole "We'll be ready for him in 15 minutes (but really an hour)" wait, but this was mind blowing. After TWO AND A HALF HOURS OF WAITING (I'm a patient guy, but this was insane), a nurse calls us up to see him, telling us that the actual surgery took a total of 4 minutes, and the prep and recovery brought the total time of the procedure to 30 minutes.

What about the other two hours? What were they doing? Playing tic tac toe with surgical tape? Are the people working there just soooo out of it that they forgot how to read a clock? No, that can't be it...

So I came to the conclusion that there is a time rift in the operating room on the 4th floor of the North Tower: Citadel of Outpatient Surgery. This is the only reasonable explanation. Even the old man says the whole deal only took 20-30 minutes. I have come to realize that there is a cosmic anomaly that affects the very fabric of space and time at this location. In fact, it even extends into the recovery area, where apparently perception of age by individuals with prolonged exposure to this rift is warped. Upon entering said recovery area, the nurse asked who was driving the old man home. When I spoke up and said that I was driving him, she said "YOU?! How old are you?!" as if my appearance was that of a pre-pubescent boy (I hadn't shaved in a week, mind you). She appeared absolutely shocked when I said I was 19.

After 5 hours at the hospital today, I have come to realize that this world is seriously fucked up...because apparently I was only there for what could be roughly estimated as ONE HOUR CT (compressed time). I swear I'm not crazy...

REALLY!
-Jon Strait
Tuesday, April 19th, 2005
---
12:50 am
- check out the sloganizer! (slogan changes on every refresh)



EDIT: the best I've seen so far is:

Be fun, act young, taste Syncognition
Tuesday, March 1st, 2005
---
4:25 pm
- I guess I'm getting pretty good at that max 300 song...
Monday, February 21st, 2005
---
6:28 pm
my previous entry has been made private. I'm sorry for anyone who might have hurt feelings over what I said. That was not my intent...it was once again a general rant like the one here: http://www.livejournal.com/users/syncognition/24871.html#cutid1 that I probably should've marked as such. That post really didn't have anything to do with anyone specific or any one thing that was bothering me. I'm sorry if it gave off that vibe, and I am really sorry to everyone that I have frustrated with my ranting.
Saturday, February 19th, 2005
---
8:28 pm
roses are #FF0000
violets are #0000FF
all my base
are belong to you

rofl
Friday, February 18th, 2005
---
9:42 am
You can ask me ANY SEVEN questions, no matter how personal, inappropriate or random. I promise to answer the questions 100% truthfully. Repost this and see what people want to ask you!
Thursday, February 17th, 2005
---
10:40 pm
PANDEMONIUM CODE HAS BEEN RELEASED!!!!!

omg I was sooo right...I totally told matt that they would release Pandemonium before Xuxa because Xuxa is a fun song with the "ITG" in mines at the end...I'm going to rocky's NOW to play mah 13 :0)

EDIT: OWWWWW. I played it on medium to warm up, then I raped infection with 93.97, then I played pandemonium again, but on expert and I GOT RAPED. actually, I had like a 300-something combo and 79% when I failed it about 10 seconds from the end cause my stomach was going to come flying out of my throat...

I'll be down at rocky's tomorrow to play a little...but not a lot. If I'm going to be raping pandemonium I'd better be sensible about it. I've already lost too much weight as it is >.
1:42 pm
- just to clear up any confusion
(

Life's minor frustrations (and occasional dangers) for the color blind:Collapse

)



only reason I'm posting this is because I'm a bit tired of people asking what it's like and then "testing" me with different colors. I really shouldn't have to explain myself when I do something stupid like call someone's purple car blue or get the green marker when I'm told to get the red one. I have Protanomaly (which affects 1% of males) meaning that my reds are weak. this is why anything red that I own is usually very bright. My favorite color is red, but only the red I can see =P
Wednesday, February 16th, 2005
---
5:53 pm
- Update: sTrAiTmobile
I took the car down to the dealer after class today...OMG was there a lot wrong with it. Lemme make a list...the work totaled $638.30. Ouch.

Timing belt badly worn
Drive belts worn
Misfire in cylinder 3 caused by burned off plug wire
bad spark plugs
leaky gasket in cylinder 3

and probably some other stuff I can't exactly remember off the top of my head. All of that got replaced, and now my car is running awesome. No more burning smell after I drive it, no more struggling for accelleration, no more top speed of 45mph, and no more of that godawful slipping/grinding when I first set out. The sTrAiTmobile is once again as it should be: excelling in the field of mediocrity. I DID have to wait down in the winter park village for like, 4 hours, but it was totally worth it. I looked at some 20gb mp3 players (the creative labs jukebox comes to mind), and I totally want one. Screw getting a memory expansion for my little 256meg player, I want something huge and non-ipod. Maybe if I ever get a job I can save up for it...
Tuesday, February 15th, 2005
---
10:18 pm
- The Random Musings of a Common Man
Sometimes we do things that we just can't explain for the sake of another's happiness. We require no acknowledgement of these deeds and no payment for our actions. We can be not only content, but proud of the fact that we did what was right and got nothing in return. And should we actually receive even the slightest recognition of our acts, our hearts become large and filled with joy. We become stronger and weaker at the same time...more vulnerable to the kind words of others. We are touched by the fact that someone cares, and thus we are lifted up to a place that we could've never experienced alone. That, as I understand it, is what we call love. And I am happy that I know it is out there.

Sorry, just some random belated valentine's day enlightenment from your crazy, overly-introspective friend...I may be wrong, but let me believe what I do :0)

happy days all,
-Jon
Monday, February 14th, 2005
---
1:53 pm
- Well, It's Valentine's Day...
I hid you for a long time
the way a branch hides its
slowly ripening fruit among leaves,
and like a flower crystal of ice
on a winter window
you open in my mind.
In my heart I keep
the sparkle of your eyes
the tender warmth of your smile
the small tilt of your head
the delicate curves of your soft body
and I dream
dream of holding you close
caring for you, protecting you
and loving you always.





Thought I could post this up here...I suppose I'll be spending this one like every other one. Not that I totally mind it or anything :0). If anything, this day reminds me of what I miss and people I wish I could see. What the hell ever...I'm just babbling now...



EDIT: had to repost since the server seems to have eaten my last one >.
Tuesday, February 8th, 2005
---
5:23 pm
- Boy Blue
wow, I'm sure some of you have seen this before, but I came across this picture I took last summer of my little brother just now. it's so delightfully emo XD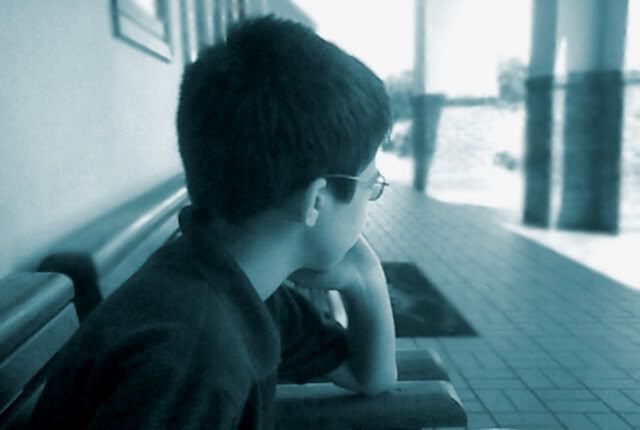 I photoshopped it of course. here's the original pic

http://img.photobucket.com/albums/v343/syncognition/mike.jpg

I took it on my camera phone...I was pretty surprised at how it came out. usually my phone doesn't take the greatest pictures.

update on my daily garbage later.

EDIT: oh, new LJ pic too...yeah I know it's craptastical, but what do you expect from a cropped and resized junky webcam pic?
Sunday, February 6th, 2005
---
7:16 pm
LiveJournal
Trading Cards
Free Account Edition
syncognition


User Number:

3131105

Date Created:

2004-05-12

Number of Posts:

59

Jon is a schmuck who thinks too much and analyzes crap all the time. he likes to stomp arrows, play musical instruments, sing (aka howl), and compose.

Strengths:

possesses intestinal fortitude, insight, and is always accommodating

Weaknesses:

eats all the time, is capable of bad mood swings, focuses on emotion too much

Special Skills:

drawing, piano, arrow stomping, etc.

Weapons:

as well as having a sword, a bo, and a large knife (none of which get any use), the typical syncognition is equipped with teeth that could sink the titanic.

Favorite Lyric Line:

If looks could really kill then my profession would be staring.

Make your own LiveJournal Trading Card!
Brought to you by
crossfire
3:35 pm
- "This Movie Sucks!"
Pretty much my reaction to boogeyman. It seemed like an hour and a half of a dude standing in front of a door afraid to open it. The movie had to resort to cheap scares, since the climax didn't really make a whole lot of sense. The whole movie tried to lead up to this big moment that never happened. Next time I want that experience I'll go out on a date.

Oh wait, I can't even do that.
-Jon
Saturday, February 5th, 2005
---
10:02 pm
- Sorry Guys
I didn't feel like going out again tonight. I already said last night that I didn't intend to go to rocky's 3 nights in one week, and today I just didn't feel like going anywhere. Sorry I didn't meet you at tilt, Matt. When you called I was sorta up for it and I said I'd try to get there, but that went down the tubes. I'm sure I wasn't really missed or needed anyway. Hope you had fun. Maybe next week I'll feel more up to doing stuff and less like an asse.

-Jon
Friday, February 4th, 2005
---
9:37 pm
- new LJ layout...
lemme know what you think. it's similar to the one in my old LJ, but much cooler I think.

EDIT: does anyone know the code to make the background a seperate layer from the text windows? I'd like the wallpaper to just stay still while the text scrolls so I don't have these seams going down the page.

EDIT2: awww shit son. now it looks waaaay better. thanks Ben!!!!
1:12 am
- Mystik seems to have a pretty good take on the concept of mines in ITG
Mystik wrote:

"ok, the main thing you need to remember with mines: Don't hit them

2nd thing: Don't hit an entire stream of them

3rd thing: don't hit them even if you hit them on beat.

oh oh oh and also just look ahead as they scroll up, get a quick idea of where your going to place your feet and then let out a loud battle cry as you make your move. there's 5 rules of ITG:

1) Dodge
2) Duck
3) Dip
4) Dive
5) Dodge "

sounds about right. totally got Xuxa again on chance today (has to be like the 5th time...) got 92.51 on it or something like that. it's about the only good thing I did all night. ITG depresses me, because right after getting 93.7 on Vertex (a 12 for those of you who don't know...it puts max 300 to shame), I proceded to fail Dawn (a 9 with a lot of hand plant steps that just refused to work for me). I'm totally done with being serious about ITG. I'll just play in my spare time to hang out with Matt or whatever.
Tuesday, February 1st, 2005
---
5:32 pm
- ok, I promised a happy one...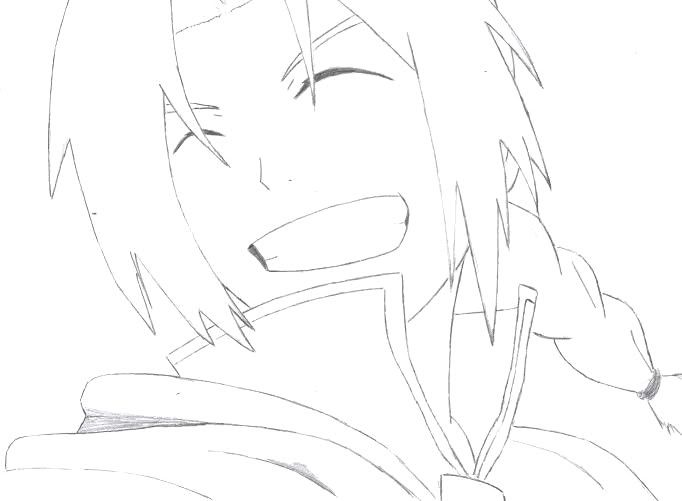 happy enough for ya? =P
12:36 am
- caffinated syncognition
I just had caffine for the first time since friday evening, and damn do I feel wired. Like, seriously...and it was just a freaking Dr. Pepper.

So I did some writing assignments today after my music classes were over with. tomorrow I get to do peer editing...joy [/sarcasm]. and I have an assload of online math homework to do by 11:59 thursday night...thank god it's like, mind-numbingly easy. I didn't work out today...I decided I'd do that on tuesdays, thursdays, and sundays since I sorta need the time at home on monday and wednesday to practice and do homework. I think I've got a good schedule figured out. Other than class and working out I have no idea what I'm doing tomorrow. I really wish I could've gotten something like a science or a history class to fill up the whole 4 hours I have between my classes on tuesday and thursday, but there wasn't anything available...I'm totally doing early registration for the summer semester so I can make up for the 3 or so classes that I didn't take this year.

other than school I guess I have some adjustments to make. Matt wants to go hardcore into DDR and ITG again, so I suppose I'll be able to catch him at rocky's or tilt more often if I feel like playing. Mary is going back to sofla (as I'm sure all of you who know her already know), so that's one friend that I'll have to keep in touch with since I won't be seeing her around here anymore. That sorta reminded me that I've lost touch with my sofla/west coast/FTS', so I want to catch up with you guys. Next time I'm not busy and I'm on I want to talk to you guys. And maybe over spring break I can make a Sofla tour and hit ft. myers for a couple of days to see ya'll and then head over to ft. lauderdale to visit Mary and all those other sofla people I met at storm/rocky's get togethers. we shall see.

I definitely have my phone, too. So if anyone wants to bug me (when I'm NOT in school kthnx) my number is 321-279-9146. I have to check about my minutes, but I know I get free long distance...dunno about nights or weekends though.

guess that's all
Jon
Monday, January 31st, 2005
---
1:11 am
- I got bored, so I drew something...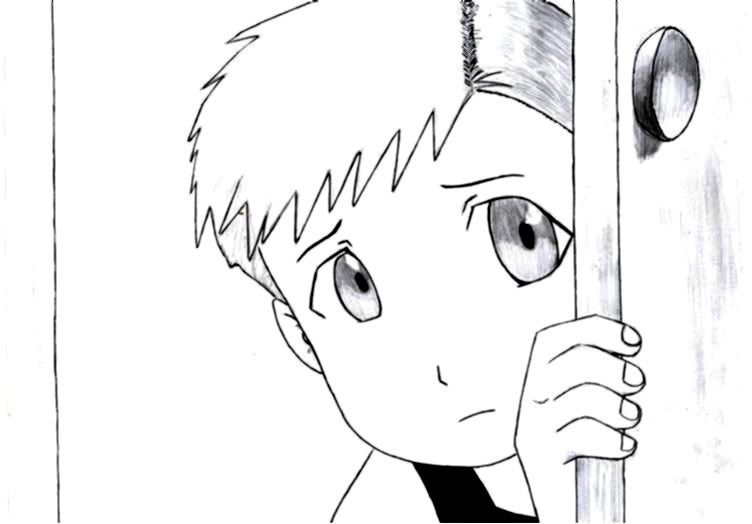 a lot of the detail and shading was lost when I scanned it, but I really didn't want to find good lighting for a picture.
Sunday, January 30th, 2005
---
10:37 pm
yesterday was fun. I did some stupid stuff, but overall it was worth it to be able to hang out with some friends and see people I care about. I was a bit of a prick at the end of the night (4am) but that's straightened out now.

today I pretty much just hung around the house and worked on some music. talked to some people about some stuff. the usual I suppose. well maybe not...whatever. my mom almost convinced me to go with her and Erin to see the aviator, but I really didn't want to go out tonight. I did a little drawing today that I guess I might post later when I stop being lazy and hook up my scanner. It's kinda nifty I suppose...just a character drawing.

My piano teacher told me that I can have tomorrow off. I guess I owned that last test pretty hard, because she never did that last semester with any of her students. I won't question it...I'll just get to sleep in an extra hour before I go to band and brass choir and blow my chops for 4 hours straight.I think I'm going to the gym tomorrow afternoon too, so I probably won't be back until like 3:30 or so. If anyone needs to talk before that I'll have my cell on me, so you can call and I'll get back to you ASAP.

I guess that's about it. tomorrow is a pretty easy day with the exception of massive amounts of math and english homework that I have to do when I get home, so I don't know how much I'll be able to talk or anything. whatever, I can make time if I'm needed.

k, now I'm done
-Jon
Saturday, January 29th, 2005
---
11:57 am
- meh
Take the quiz: "What does your birth month reveal about you?"

November
Has lots of extraordinary ideas. Difficult to fathom. Thinkforward. Unique. brilliant. Sharp thinking. Fine, strong clairvoyance. make good doctors. Dynamic. Secretive. Inquisitive. Know how to dig secrets. Always thinking. Less talkative. amiable. Brave. generous. Patient. Stubborn. hardhearted. Determined. Never quit. Hardly become angry unless provoked. Love to be alone. Think differently. Sharp-minded. Motivate self. Dont appreciate praises. Highspirited. Well-built, tough. Deep love, emotions. Romantic. Uncertain in relationships. Homely. Hardworking. High abilities. Trustworthy. Honest. Keepsecrets. Cant control emotions. Unpredictable.
---